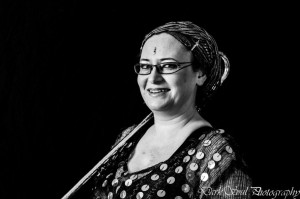 A bellydance teacher based in South Shropshire, England, Niki began learning bellydance at the start of 2008, and was soon hooked. Supplementing her experience by travelling to workshops across the UK, while also having regular lessons with local teachers, Niki branched out into teaching in October 2011. However, Niki continues to attend workshops as often as possible, as the dance style is constantly evolving and there is always something new to learn.
Before finding the type of dance that she loved the most, Niki tried many different formats, which have served as a useful foundation for her bellydancing. Studying classical ballet for 10 years, and tap and modern ballet for 2 years, she has also tried her hand at salsa, Zumba, North-West Morris and other English folk styles. Within bellydance itself, there are lots of different dance styles, although Niki's personal favourites tend towards the folky Egyptian styles (danced to saidi or beledi music).
Niki's students dance under the name of Banat Baladi (country girls), and they mainly perform traditional/cabaret Egyptian moves.
Niki has also performed with Circle of Serpents: gothic bellydancers who take influences from all over the place in order to come up with unusual dances to heavy metal, industrial and gothic tunes.
Niki is a member of the Mosaic Arabic Dance Network.
Black and white image from James at Dark Soul Photography